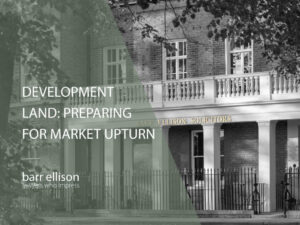 For landowners with planning permission for development or the prospect of obtaining permission, Barr Ellison is offering a free overview of title documents and the provision of a Title Report to be included within the marketing pack when marketing commences.
Now is a useful time for landowners to be preparing for marketing to be ready to capitalise on the best offers when developers are back in force, scouring the market for worthwhile opportunities.
For landowners who wish to give their sites the edge in securing the best offers from developers as we come out of lockdown please contact the Barr Ellison Commercial Property Team. We have a wealth of experience in development land sales. In the first instance please contact Elizabeth Deyong on e.deyong@barrellison.co.uk.
Posted on 12 May 2020